It's a very small and important fact that every woman wants to look beautiful no matter where she is. Along with clothing, accessories are one of the widely preferred products. 5,000 years ago was born the desire to adorn oneself and thus took root Indian jewellery. India being a "gem-bearing" country has been a treasure of various precious stones and has enticed many travellers, traders and tourists.Transgressing through time and history, Indian jewellery has not remained just a craft, but evolved into an art - both in design and workmanship. For the rulers, jewels were a statement of power, prosperity and prestige. But for the Indian woman, jewellery was and is, even today in many parts considered as a security, the value of which will almost always accentuate, never depreciate. One such accessories are Jhumkas, which has a very interesting history.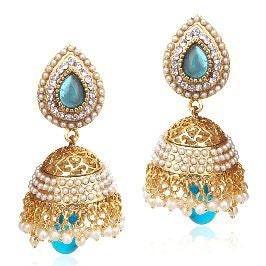 Jhumkas are an eternal favorite ageless design of earrings that have been in vogue since years. It gives birth to a gorgeous look that can harmonize with any occasion. Jhumkas are striking and exotic very large size chandelier earrings in circular dome/bell shape. The jhumka is designed in the form of a bell with a large drop shape found inside the outer cupola.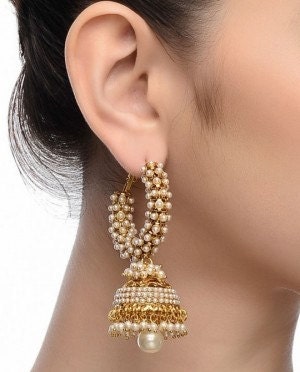 The word 'Jhumki' refers to the traditional bell shaped earring design of India. The design has hanging decorative elements and is loved for the distinctive 'jingle' of these hanging elements.The name Jhumki was chosen to represent the timeless beauty of jewellery that emerged in ancient times and has managed to endure and cross cultures from the East to the West. Some women, especially in the villages, wear these Jhumkis on a daily basis. Those earnings are much smaller and light weighted. Jhumkas are timeless jewellery ornament which fashion never comes to an end. Silver oxidised Jhumkas These jhumkas have their origin mainly from the areas of Gujarat and Rajasthan. They are worn by women of all ages and mostly with ghagra – choli, during the festive seasons like Navratri. These jhumkas are mainly associated with one of the community named Banjaras found in the region of Gujarat and Rajasthan.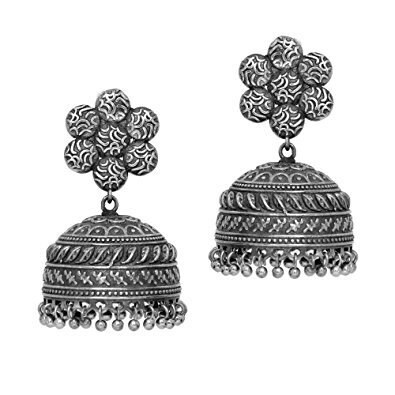 Since these jhumkas are made of silver, which is oxidised, they look different from the unoxidised ones or normal silver jhumkas. They are even known as Gujarati style jhumkas. Silver oxidised jhumkas have a blackish colour, while the normal ones have a lustrous look. Silver jhumkas cannot be adorned daily, whereas you can easily flaunt the oxidised ones every day without any worries.