Anklets
Jewelry and accessories for female feet has been a common practice in India, Egypt, and the Middle East for centuries. Worn around the ankle, Payal, also known as Anklet, Paijeb and Paizeb, is the modern and compact version of Ghunghru. In India, Payal or Paijeb was an essential part of a girl's life right from the time of her birth, to wearing it throughout her life. However, today Anklets are more of a symbolic ornament in different parts of the world, and are worn for different reasons.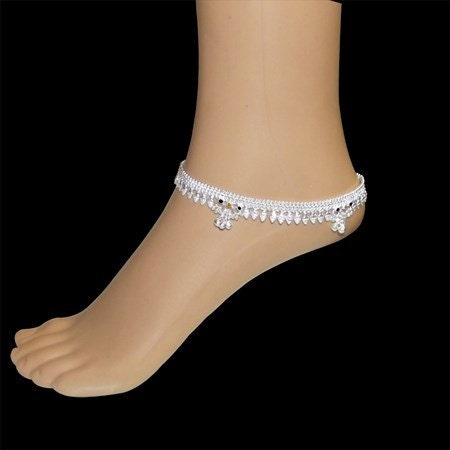 The origin of the anklet dates back to the Mesopotamian era. Anklets originated in the ancient times in Egyptian, Indian and Arab cultures. During those times, women belonging to the royal class wore it as a symbol of their wealth and status.  These were popularly worn as a fashion statement in American culture, once introduced there. In Arab countries on the other hand, where the purdah system was prevalent, anklets were worn by women to let people know about their arrival in the surroundings. Ghunghru was the basic part of a dancers' ensemble, in several dance forms across these very regions. However, as a practice, it was not considered good for the women from the higher class of society. Hence, Payal or Paizeb was introduced as smaller, lighter and simpler ankle piece. Anklets have been worn for babies for ages. They are even today more popular with toddlers from the richest to the poorest regions of the earth. While some are worn mostly as jewelry to adorn the cute little legs others still hold a strong superstitious use of wading off evil for some strong bones in some regions.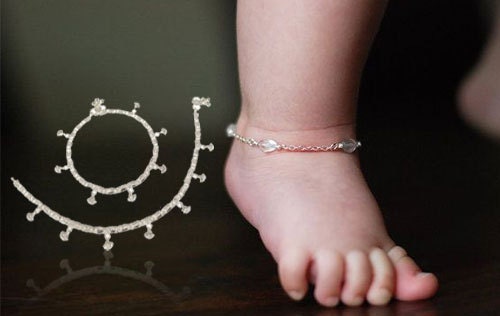 Anklets finally made their way into the United States during the 1950s. They became an extremely popular piece of fashion jewelry during the decades that followed. By the 1970s, anklets were a widespread part of fashion. Handmade jewelry became particularly popular during this time and it was common to wear anklets with charms on them.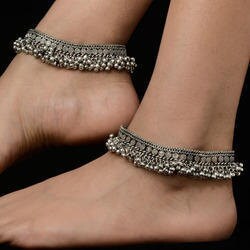 Traditionally, anklets are accented with little bells that give off a tinkling sound, as they attract one's attention to the wearer. In the Western world, they are usually worn with revealing summer outfits and pretty sandals depending on preference, as sometimes these can also be worn for formal occasions to accent a simple, pretty black dress and pumps.
Today anklets draw their inspiration from all over the world. It is common to find handcrafted Indian style anklets alongside high fashion jewelry staples like gold and silver beaded anklets.
Different varieties of Anklets:
Golden Anklets: 
Needless to say that golden ankle bracelets are number one luxury indicators, especially when they are decorated with precious stones, like diamonds or rubies. Golden anklets commonly happen designed as a single thin chain or a two-layered one.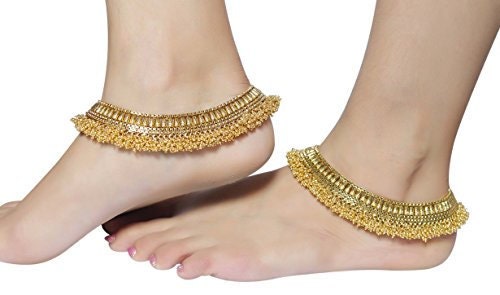 Silver Anklets:
Silver anklets are more casual, with some touches of bohemian spirit to them and are exactly for all ladies. They might make an ideal harmonious pair with summer sandals, whether high-heeled or flat, and are perfect pieces to hotfoot it around the city in a breezy summer evening.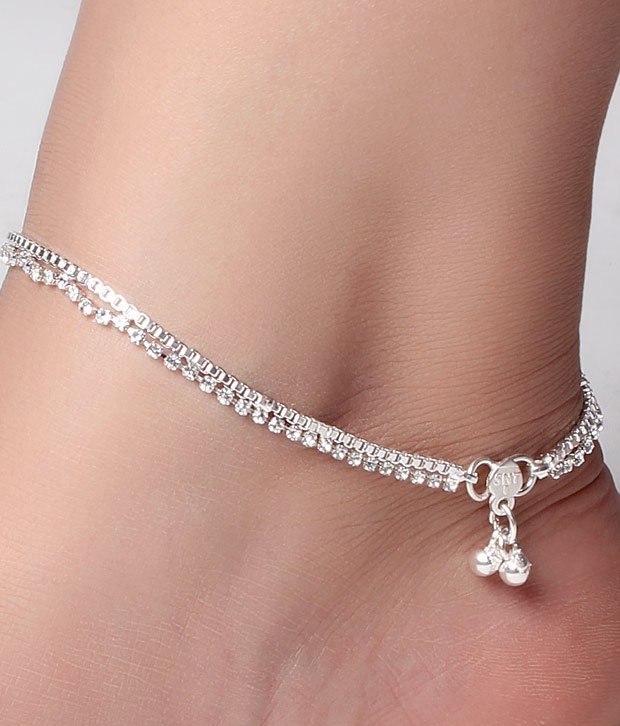 Beaded Anklets:
You may run into both monochromatic and iridescently beaded ankle chains that are the things for every bohemian girl or ethnic-style-estimator lady. Beaded chains can be matched with either sandals or beach-worthy flip-flops.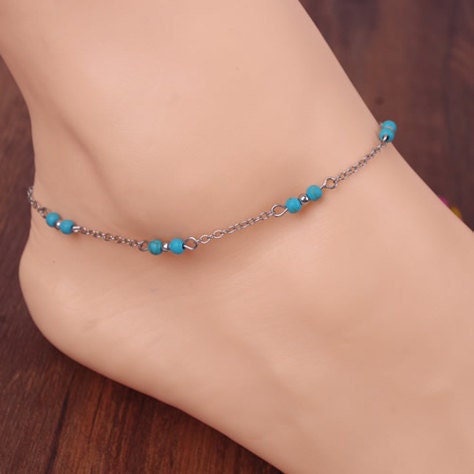 Barefoot Anklets:
These are very popular items among Indian women. Barefoot anklets consist of a bracelet fastened on the ankle then stretching along the foot bridge and finishing with a toe ring, thus imitating a barefoot sandal only without a sole.They are ideal versions for those who are in a craze to walk along the beach barefoot. Oh, and those lacy anklets look so dazzling on a bride enjoying her own marriage on a beach!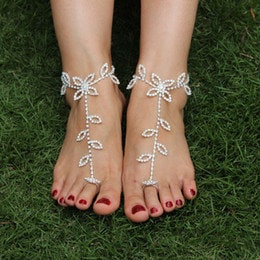 Anklets with Charms: 
These versions have become popular recently especially when Pandora charms started their frantic invasion. Whether you give your preference to a charm of name initials, or a heart charm or maybe a star one, your charm anklet will become that very stroke to emphasize your individuality.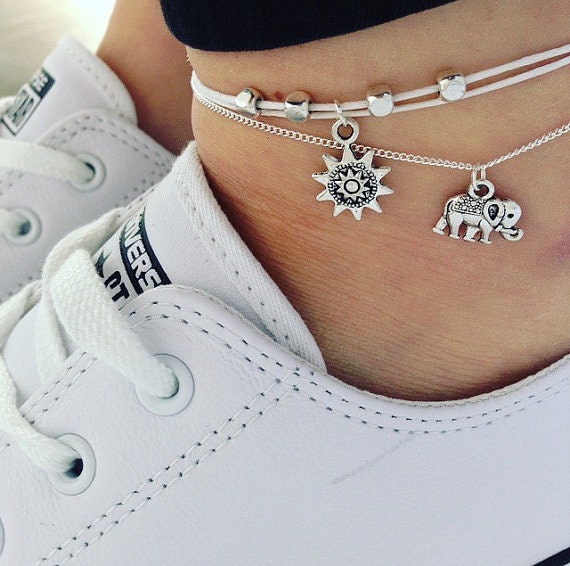 Oxidised Anklets It is easy to see why oxidized jewelry has gained popularity. Not only does it have a unique look but it is versatile and cost effective in comparison to purer metals like gold and silver. Oxidized metal comes in myriad patterns with stone work, delicate carving and enameling to name a few. These pieces have an old world charm and traditional appeal. Oxidization creates a light and shadow effect in jewelry while making colored stones on them stand out. Oxidized metal offers a fresh and novel look in the world of gold and silver jewelry.
This process of oxidization has the blending of the two metals to create the alloy. A pure metal like silver is exposed to Sulfur to get the oxidized effect.
Oxidized jewelry has caught on in a big way and the antique look which is combined with ethnic wear is considered fashionable. Oxidized pieces are worn in combination with precious jewelry too.